The new reality show starring US! We seem to be blessed with the ability to trade up campers. We buy them, use them for a good while, and then sell them for a profit. This wasn't our initial desire, mind you! We had this pop up...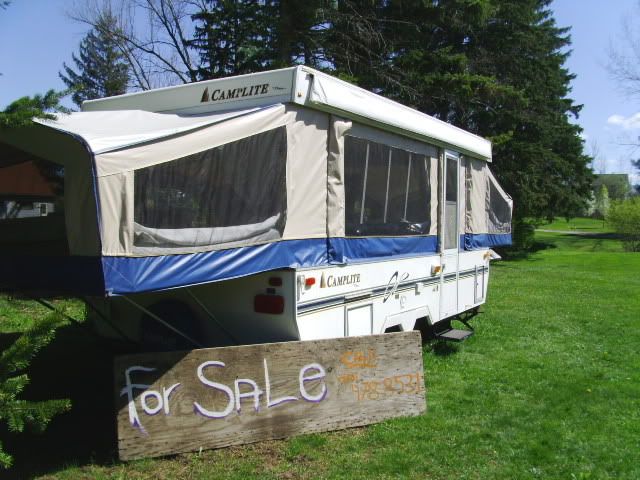 and while it was wonderful (we would have never gotten rid of it except our current situation of deputation) it is not at all practical to set one of these up in a Wal Mart parking lot. I am just saying. So we sold it this spring, and bought this...
... thinking it was absolutely the answer to our prayers! AND it WAS! We thoroughly enjoyed it, and traveled it nearly 10,000 miles since May. We had a few "
situations
" and "
on the go repairs
" but all in all it was an amazing camper. All except for the part that- shockingly- it was too small. With these little giants we call sons, it was quite impractical for living in it for 6+ weeks at a time. And the thought of this being our sole dwelling... that just seemed like
insanity
a very detrimental situation. So we sold it (in the middle of a blizzard and for a profit I might add...!!) and JuSt ToDAY bought this one...
This literally was a gift from God. The dealer is a small little shop in Herkimer, NY. That is where Dan is from- a podunk little town in the center on NY state, but the owner got this little beauty in just a few weeks ago.
It was a bank repo which means he got it at an amazing deal and passed the savings on to us!
Truly incredible and several thousand dollars less than anywhere else we had looked for a camper like this! A kitchen with counter space!
And a slide! And a TV cabinet with a built in DVD player and stereo. No TV, but we will make do!
But most importantly... QUAD BUNKS!! A space for each child to call their own- a mini (and I mean MiNi!) little hideaway for each one of them to spread out curl up and have a little private place.
We will be taking this on the deputation journey we have planned in January and we will be gone until nearly the beginning of April. I am sure we will have a great many opportunities to use every square inch of this blessing from the Lord... and whether they are interesting or not... I will chronicle them here!
I pray the "Flip this Camper" show only has three episodes... but stay tuned just in case there happens to be a fourth!